Last week I told you about my plans to makeover the guest room in our house. We need a space that will serve a multitude of functions in a tiny floor plan. The first part of that plan was freshening up the walls a bit. They were a tad boring, and the chocolate brown accent wall only enhanced the scuffs and drywall imperfections left by the owners. Here's where we left off:
Before starting my plans to paint, I decided to go down to our basement and take inventory of the paint stock down there. The owners have left all of their paint cans behind which would make touchups great if we left the rooms that color. It seems a shame to let the paint go to waste, but unfortunately their color pallet just wasn't in our taste. One can struck my fancy, however. It was labeled "Fence". I had to do a double take on the label because it was a latex based indoor paint. It had appeared that the can was an extra from when the fence was installed (back in 2005?), because it was unused. Still, I couldn't help but shake my head at the thought of the owners using an interior paint on the privacy fence that enclosed most of our back yard. The other intriguing part is that it seemed to hold up pretty well (the label on the can was printed in 2005 when the paint was mixed so I assume that's around the time when they built the fence).
Not too bad considering a majority of that fence line sits beneath several trees. The winter weather here in upstate New York is also pretty harsh, and it's managed to last pretty well despite those conditions. The color has oxidized a bit and appears to be more blue than what the can portrays, but I must admit that I am impressed!
I've heard varying opinions on how long leftover paint is supposed to last, too. I'll admit that I was hesitant to use a paint that was mixed over 7 years ago, but, after a few stirs with my wooden mixing stick, everything seemed to be just fine! The color was still dark and it applied evenly to the wall. Painting the accent wall was great, but the walls still seemed to be missing something. After browsing Pinterest, I hit up some of my favorite blogs, and settled on an inspiration photo of Kevin and Layla's small guest/reading room on their blog
The Lettered Cottage
.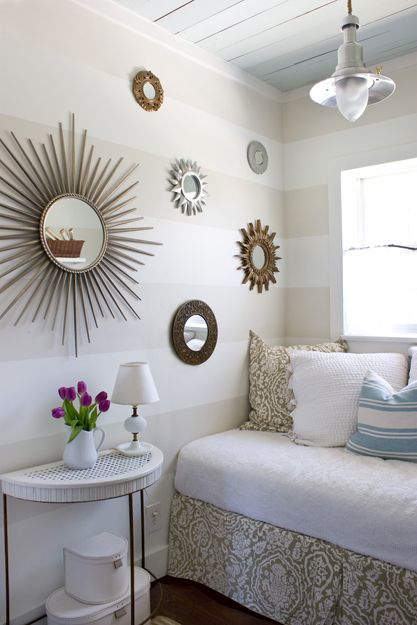 I just love what the stripes have done for the visual interest in this tiny space. Read more about their transformation
here
.
So armed with a pencil, tape measure, and painters tape, I began the arduous process of creating horizontal stripes on the walls. Here I am about halfway done with taping.... (get a load of how nice that blue turned out, to!)
And then I ran out of tape, so I sent the husband on a mission to grab more tape on his way home from work.
Although I didn't take any pictures of the finished taping project, let me just say that not all tape is created equally. The blue tape you see on the walls is my good old stand by 3M painters tape. It's an adequate tape for relatively low cost, and it gets most jobs done. The DH brought home a roll of the green stuff, Frogtape, and honestly not much else can really compare to it. I'd never tried the stuff before because the price of it scared me away, but let me just say that it is WORTH every penny! If you can get over the sticker shock, grab yourself a roll the next time you take on a painting project, and you won't be sorry. The following pictures may not show in detail why, but if you were to see it in person, you could see that the blue tape lines are not as crisp as the green even after smoothing the edges of the blue tape extra well to ensure a good stick. 3M, I'm sorry to part this way. We've had a good run... but it's over. It's not me, it's you.
I tried to organize my craft mess as best as possible for you. A for effort, right? :)
Overall, I am completely thrilled with how the room has turned out, and the only thing spent was $10 for a new roll of tape (of which I still have plenty left over for other projects). Next on the list? I think I need to get some of my craft gear organized, so I'll be on the hunt for a good way to store everything. We're also in need of a daybed so that our guests can have a place to sleep, and I am already fabric shopping for new curtains (priorities, people)!
What do you think? Do the stripes get your vote? Have you completed any room makeovers under $10 lately? What kind of storage organization would you recommend?